MAKSIWA SLIDING PANEL SAW TITANIUM. 1 PHASE . 5HP 220V BMT.3200.IRTitanium
$9,999.00
Compare
Description
Maksiwa have been developing and manufacturing sliding panel saws for over 30 years, the knowledge and expertise acquired during this period along with our endless pursuit of perfection bring us here today to show our newest and most advanced machine in its category.
The Maksiwa BMT.3200.IR Sliding Panel Saw is extremely durable and incredibly smooth to operate. From the first drawing until the final product our engineering team had as one of their main objectives produce the most advanced Sliding Panel Saw in its category. Maksiwa always use superior components and materials to deliver the absolute best machines to you.
This Panel Saw delivers unapparelled smoothness and precision with our table system. Even with heavy loads the movement is a breeze.
Standard on the Maksiwa BMT.3200.IR is the dual overhead saw guard, which features a 4" Dust port.
---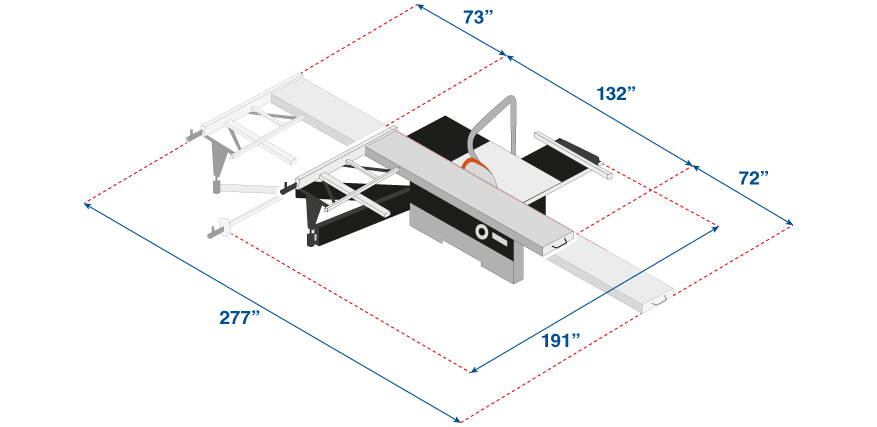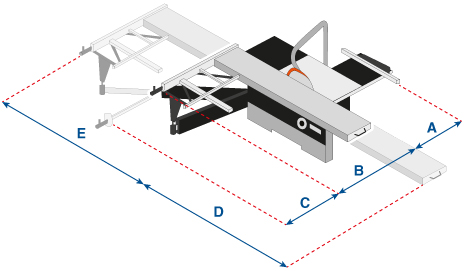 CUTTING CAPACITY
A Manual adjustment cutting width: 59″
B Crosscut fence closed: 78″
C Crosscut fence extended: B + C = 135″
D Sliding table travel front: 204″
E Sliding table travel back: 205″
---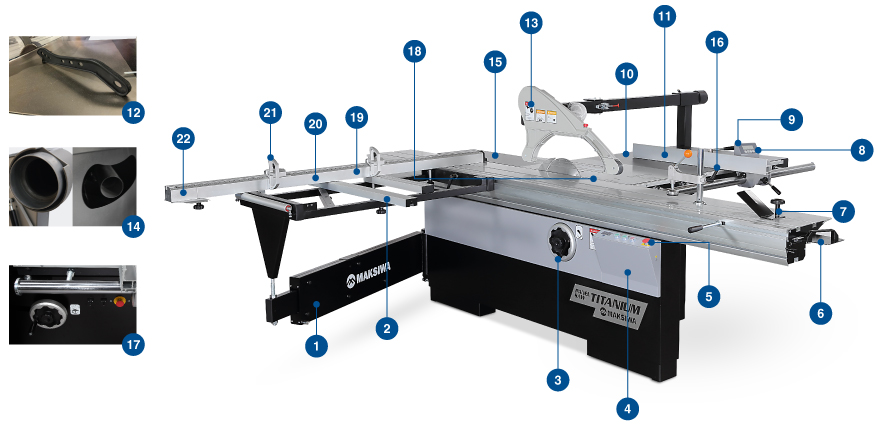 1. MOBILE ARM
2. MOBILE TABLE SUPPORT
3. BLADE TILT CONTROL HANDLE
4. CONTROL PANEL
5. EMERGENCY BUTTONS/SWITCHES
6. MAIN TABLE LOCK
7. WEDGE CLAMP
8. DIGITAL DISPLAY FOR RIP FENCE
9. FINE ADJUSTMENTS
10. REAR EXTENSION TABLE
11. REAR EXTENSION TABLE GUIDE
12. PANEL PUSHING HANDLE
13. DUAL BLADE PROTECTOR COVER
14. DUST COLLECTOR PORT
15. SUPPORT TABLE
16. WOOD PANEL CLAMP
17. BLADE HEIGHT ADJUSTMENT HANDLE
18. SCORING BLADE ADJUSTMENT HANDLES
19. MEASURING TAPE METRIC & STANDARD
20. ALUMINIUM TABLE GUIDE
21. WOOD PANEL STOPPER
22. ALUMINIUM GUIDE EXTENSIONS
TECHNICAL INFORMATION
Sliding table dimension 132"x 14 1/8"
Sliding table max travel length 286"
Main table with supporting table width 59"
Crosscut Fence stoppers 2
Crosscut Fence Tape
Crosscut Fence Max. Collapsed 78″
Crosscut Fence Max. Extended 140″
Rip Fence with digital readout
Rip Fence micro adjustment
Rip Fence bar: Solid Steel Micro Polished 2″
Blade Covers 90° & 45° 2 units
Lockable main power switch 45°
Emergency buttons 2
Hold Down Clamp Included
Max tilt 45°
Max depth cut 3″
Max cutting length 120"
Max cutting height with blade at 90° 3 1/2″ / 90mm
Max cutting height with blade at 45° 2 3/8″ / 62mm
Digital Tilt Display
Weight N/G 1519 LBS / 1752 LBS
Machine dimensions (collapsed) L 132" X W 135" X H 65''
Machine dimensions (extended) L 192" X W 280" X H 65''
Warranty 2 Years
BLADE
Main blade diameter 12" / 305mm
Main blade arbor size 3/16″ / 30mm
Scoring blade arbor size 3/4" / 20mm
• Scoring blade adjustment T-Handle through cast top
DUST COLLECTOR
Port 1 diameter 4''
Port 2 diameter 4''
Minimum CFM needed 1000 CFM
ELECTRICAL OPTIONS
Main motor 5 HP – 24 Amps 60 HZ 3.7 KW
Main motor – Blade Speed 4000 RPM
Scoring motor 3/4 HP – 6 Amps 0.55 KW
Scoring motor – Blade Speed 8000 RPM
Only logged in customers who have purchased this product may leave a review.